With the most recent turn of events, work from home has become the new norm. Meetings and conferences are now all taken virtually and from the comfort of our own homes. Luckily, technology keeps evolving to help us better adjust. Here, we will be talking about the best tools to aid in high quality virtual meetings. I'll share tips to help you choose the best wireless headset for video conferencing, along with my top three picks for different types of users.
For me, the best wireless headset for video conferencing is the Senheiser SDW 5066 (Amazon Link), which I love because of its battery performance. Designed for all-day use, you can recharge 50% of the battery during your 30 minute lunch break … offering you reliable performance that won't quit to accompany the excellent performance this wireless headset offers.
Specifically, I will touch on wireless headsets and why they're probably your best, budget-friendly option. I'll explain why you need one, and share my top 3 picks in different categories:
Best Bluetooth
Best Overall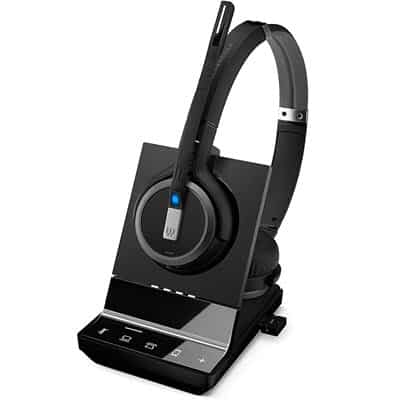 Best Value
Let's get right into why you ought to own a headset and use that for video conferences.
Why Buy a Headset Instead of Another Option?
So the big question is why should we be spending additional money on a headset when our computers and mobile devices already have speakers and microphones installed?
The answer is simple, and it all comes down to quality. While most devices already have microphones and speakers built in, these are not ideal for when it comes to conferencing- especially the microphones. The microphones in our devices are often not the best for conferences because they tend to pick up a lot of interference in terms of background noise, which can be very distracting and hinder the productivity of the conference.
Aside from that, working from home often entails that there would be others in the household and having a headset is ideal so that you can be the only one hearing the contents of the conference. This is a good way to separate your home office space from the rest of your home, and also eliminates issues when it comes to privacy and confidentiality.
Why Wireless is Best for Video Conferencing
While there are many different types of headsets on the market that would be ideal for conferencing, going wireless is highly recommended and for a few reasons.
For starters, it's less clutter in your workspace. With all the different computer accessories, chargers, etc. Going wireless is a great way to lessen your cable management one step at a time.
Other benefits also include aspects such as portability and compatibility.
Things to Look for in a Wireless Headset for Video Conferencing
And just like any product, you will want to make sure that everything checks off on all your lists. When it comes to wireless headsets here are some things you may want to consider:
Battery Life,
Charging Speed & Type, and
Bluetooth Range and Compatibility
Let's take a closer look at each of these with some quick tips for specifically what to look for when choosing the right wireless headset for your video calls.
Battery Life
The main difference between wired and wireless headsets is that wireless headsets do not have a battery life as long as they are plugged in. So when going wireless, you have to ask yourself what type of battery life you are looking for, how long do your conferences last? And how many do you have each day?
Charging
Along the same lines of battery life, is the aspect of charging. Are you willing to wait longer for a full charge? What about the aspect of wired vs. wireless charging? These are just some of the things to consider.
Bluetooth Range and Compatibility
While most wireless devices are compatible with one another via BlueTooth, you still have to keep an eye for compatibility in terms of version models and devices. With that being said, just because a gadget supports Bluetooth, doesn't automatically mean that the range is great.
How to Choose the Best Wireless Headset for Video Conferencing
Wireless headphones often come along with the assumption that they are more expensive. And while they generally do go for a higher price than their wired counterparts, that doesn't mean that your options are limited.
Here, I have prepared my top 3 picks for the best wireless headphones across 3 different categories: Best Value, Best Overall, and Best in Bluetooth Performance.
My Top 3 Best Wireless Headset for Video Conferencing
Let's get into the specifics about why you can't go wrong with these three terrific options. Below I'll explain why I would consider any of them the best wireless headset for video conferencing.
Best Value in Wireless Headsets for Video Conference Calls
Meet the Voyager Focus UC Headset
At the most affordable price on this list we have the Voyager Focus UC Headset by Plantronics. Sitting at a price range of below $200, this is an excellent find and gets the job done for power users on a budget.
Now, I'm aware that you can duck off to your local Staples or Best Buy and find a headset for less money than my "best value" pick, but that cheap headset won't last and worse, it won't offer the quality and performance you need when it is working out of the box.
I consider the Voyager Focus to be a reliable budget-friendly investment in this category, and one that you'll be happy with if money is tight but you need a reliable wireless headset for work.
Design
At first glance, we see that this headset sports a sleek, attractive design. Not too bulky and with an exterior microphone which is uncommonly seen for most wireless headsets at this price range. It comes with comfortable padding on the ear pads and an adjustable headband to better fit all head shapes.
Performance
This headset supports bluetooth with a decent range for its price reaching up to 90 feet. This set also has a battery life of up to 15 hours. Another great added feature is the aspect of active noise canceling which is great for conference calls. ANC Is an easily accessible feature with this set that allows you to switch between the two, giving you more control over your conferencing experience.
Best Bluetooth Performance in a Wireless Headset
Meet the Sony WH-1000XM4
Known for its gadgets worldwide, Sony is a well trusted brand especially when it comes to manufacturing speakers and audio tech alike. If you are looking for a high quality conferencing headset that can double for leisure, the WH-1000XM4 is a great investment and a real treat for your ears.
This headset employs active noise cancellation and excellent wireless performance without an obtrusive microphone interfering with your view or at risk of being damaged.
It's a great choice for those looking for the best performance in bluetooth pairing, meaning you will have great range for your calls and will be free to walk around your home to get that cup of coffee or make yourself a snack while on your conference call.
Design
Coming in at 3 different finishes these headphones by Sony will support ultimate comfort during any call. Complete with padded earpads and headband and an ergonomic fit, these headphones will not disappoint in the design aspect.
Performance
With active noise cancelation, 5 built in microphones, and flawless pairing, these headphones do all of that effortlessly and wirelessly for even better hands-free calling. You get the highest quality performance and can do so from any point in your home. More features to love include its wide range using Bluetooth 5, AI technology, touch sensor control, and its voice pick up for calls.
Best Overall Headset for Video Conferencing
Meet the Senheiser SDW 5066 Wireless Double Sided Headset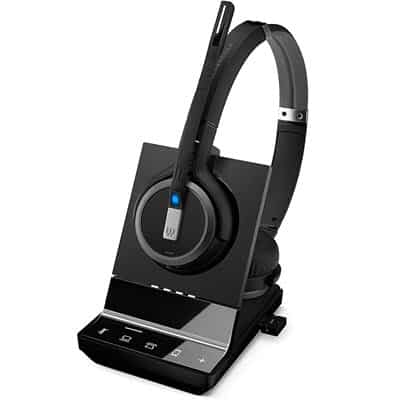 If you are looking for a headset specifically for your home office, then this one's for you.
With impeccable quality, these wireless headphones come at a hefty price, but its quality is unbeatable.
What I loved most about the Senheiser model was its comfort, utility, ease of use, and battery life. This puppy can last all day, but if you are running low after heavy use, 30 minutes is all it takes to recharge your headset to 50%.
This means that for most power users who are on their headset all day, you can be just about fully charged after your 30 minute lunchbreak.
Design
Coming in with its sleek black finish, these headphones are wireless, slim and built for comfort. With earpads filled with memory foam, as well as an adjustable padded headband, these are made for all day wear with great versatility with its adjustable microphone.
Performance
These headphones have the longest battery life in between charges and support even faster charging. They are designed for all day use and can charge up to 50% in less than 30 minutes. On top of that, it supports narrowband connectivity for up to 14 hours. Even better is that it has a long distance wireless range of up to 590 feet.
In terms of its conferencing performance, these headphones support active noise cancelling both ways. From the sound coming in through your headset all the way down to the mic with its intelligent voice-detection technology.
Choosing the Best Wireless Headset for Video Conferencing
While the switch from traditional workplace setting to work from home may not be ideal (or it may be awesome depending upon your point of view), we have lots of innovations on our side to make the journey a whole lot easier.
The search for the perfect wireless headset may be tedious, but I'm confident that one of the three models I've introduced you to in this article will bring you one step closer to the perfect work from home set up.
Enjoy!