Nose cancelling headphones get more popular by the year. They're a great way of letting you enjoy the music or audio book without distractions. But noise cancellation is a relatively new technology, and it tends to be expensive. Thankfully, there are manufacturers out there offering more affordable products without compromising quality. Here, we'll take a deep dive into the world of audio technology, even providing you with a buying guide for our top 5 picks for the best noise cancelling headphones under $100.
I Recommend Soundcore's Anker Life Q20 Hybrid Active Noise Cancelling Headphones
Excellent value for the price
90% reduction of ambient noise
BassUp technology strengthens bass output for EDM and hip-hop at the touch of a button
Excellent battery life – 40 hours of battery life in wireless active noise cancellation mode (60 hours in standard music mode)
First, let's go over exactly how noise cancellation works, so you know what features you need to look for.
Noise Cancelling Headphones: How Do They Work?
As the name suggests, these headphones cancel noise, but the big question is how? Don't all headphones do that? The simple answer is no.
Noise cancelling headphones use more advanced technology, hence the pricing. While different manufacturers may use different methods, the concept is the same.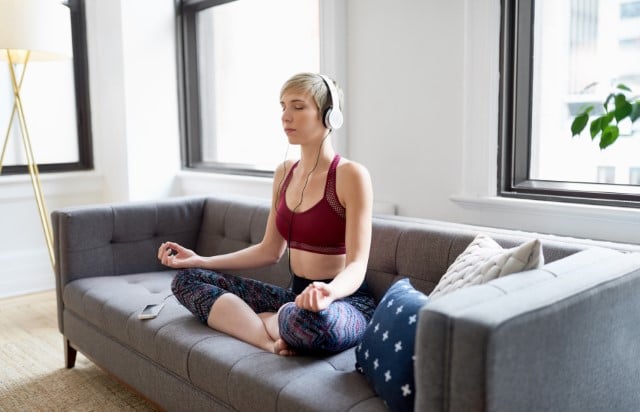 Essentially, noise cancelling headphones are smart headphones. They work by analyzing the sounds around you in order to cancel them out when the sounds from your device reach your ears.
Think about a color wheel. Colors opposite from each other on the wheel cancel and neutralize one another.
Noise cancellation is almost the same concept. It's also why noise cancelling headphones are different from the regular ones.
To completely cancel out noise with regular headphones, maybe you could turn the volume up all the way, but that comes at a great risk to your hearing.
Things to Look For in Noise Cancelling Headphones
Just like any product, you will want to invest in the one with the most features that best align with what you are looking for.
Here are some key things to consider in order to narrow down and jumpstart your search for the best noise cancelling headphones under $100.
Types of Headphones
It comes as no surprise that there are many different variations of noise cancelling headphones on the market. Particularly, they vary in terms of exterior design.
In-ear vs Over-Ear
When talking about headphones, generally there are two types: in-ear headphones, most commonly known as earbuds, and over-ear headphones. The difference is simple: one goes in your ear and the other goes around them.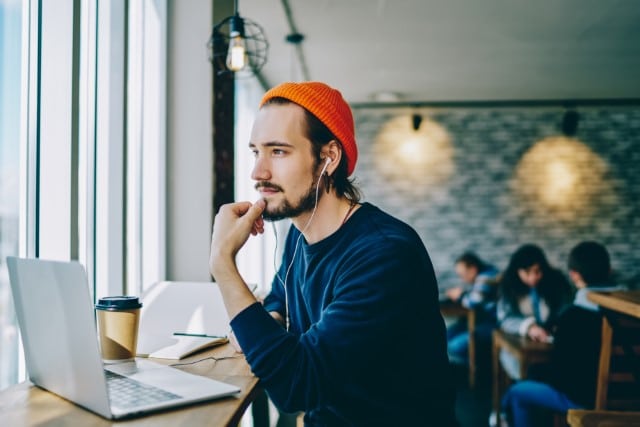 In terms of making your choice between the two, this is where you would consider to what extent you are looking for noise cancellation. While both types will get the job done, they are better used in different situations.
If you're looking for high quality headphones for on-the-go, in-ear headphones are great for their portability.
However, if you are really looking for noise cancellation, and bulkiness isn't a deal breaker, then over-ear headphones could very well be the way to go.
Wired vs. Wireless
Between in-ear headphones and over-ear headphones, common features include the choice between wired and wireless headphones.
The difference is self-explanatory, but in terms of pricing, wireless headphones generally cost more.
Tech Specs: Noise Cancellation vs Noise Isolation
Maybe you think noise cancellation and noise isolation are the same thing, but they're not.
As explained above, noise cancellation is a product of newer technology that works by observing surrounding sounds and then sending digitized sound waves through your headphones to neutralize the noise. In short, it's a digital process.
Noise Isolation, on the other hand works through the construction of the headphones. Most noise isolating headphones cover the entire ear so that sound comes from every angle, therefore blocking out outside noise and isolating the sounds coming from your device.
Price
And just like every large purchase, we have the aspect of price: is it worth it? More importantly, what is your budget? What are the best noise cancelling headphones under $100?
5 Best Noise Cancelling Headphones Under $100
Here, we have listed our top picks from the lowest price to the highest. But don't be fooled, each item on this list will make an excellent choice!
Coming at the best value in terms of price, these wireless noise canceling headphones by Plantronics are the most affordable on the list and come with a variety of features.
Design
Available in three different finishes, these over-ear headphones sport a great and comfortable design for users. With memory foam protected by high quality leatherette, these headphones are not only stylish but great for on the go and for long periods of use.
Not to mention the folding feature which lays the headphones flat for travel-friendly use.
Performance
In terms of performance, the Plantronics Backseat GO 810 Wireless Headphones operate through Bluetooth, with an added benefit of its integrated Bluetooth microphone built in. These headphones can operate for a total of up to 22 hours in a single charge.
Most importantly, when it comes to the aspect of noise cancellation, these headphones use special Active Noise Cancelling (ANC) technology, which lets users control the level of noise they want to hear from the outside.
This is useful for travelers who want a good listening experience without the risk of missing out on key information or announcements from the outside world. Control for this feature is easily accessible through buttons from the outside of the headphones.
Affordable price
High performing ANC feature
Sleek design
Soft materials used for added comfort
Foldable, flat laying
Long charging time
Limited Bluetooth range
---
Up next on the list are these active noise cancelling headphones by Anker, which have an attractive price in addition to high ratings.
Anker is very well known for its production of headphones and gadgets alike. These headphones are a great, affordable take on some of their more expensive models.
Design
Coming in with two different color options, these over-ear headphones support a lightweight ergonomic design for both comfort and a clean look when worn.
The oversized earphones allow for optimal listening and are protected by memory foam for added comfort.
In terms of fit, these headphones have extra joints that allow the band to automatically adjust to your head shape. These headphones can also be used both wired or wireless.
Performance
As mentioned earlier, these Anker Soundcore headphones are high performing, especially for the price.
With Active Noise Cancelling (ANC) technology, these headphones are able to reduce outside noises by up to 90%. Four integrated Bluetooth microphones analyze the outside noise to deliver on its promise of noise cancellation.
Not only that, but these headphones will automatically enhance your listening experience through its BassUp feature, which allows users to control the bass output on their music with just a double tap of a button on the side.
All of these features can be enjoyed with the headphone's 40 hours of nonstop listening.
Affordable price
Long listening life
BassUp technology
Up to 90% noise reduction
High Bluetooth connectivity range
Fast charging time
Travel pouch included
Option between wired and wireless listening
Limited control and access to outside noise
---
Sony is another popular brand when it comes to all things audio tech, and it's a highly trusted brand at that. If you are looking for brand name headphones at an affordable price, these are for you.
Design
Coming in with two different color options, these headphones by Sony support an over-ear design with maximum comfort coming from the padding around the ears and at the top of the headband.
Overall, these support a sleek and simple design with discreet knobs and ports concealed in the side of the headphones.
Performance
At an affordable price, these headphones by Sony are a great value for their performance capabilities. With digital noise cancelling technology, they get the job done.
They even have added features, such as hands free calling and access to Alexa or Siri if programmed. All these features are easily accessible through Sony's use of AI to better enhance listening experience at user convenience. All with a playback life of up to 30 hours of nonstop listening.
Affordable Price
Long listening
Flat storage
Digital noise cancelling
Active listening for Alexa
Not ideal for low frequency music genres
---
Another great brand for all things electronic and digital is Panasonic. While this is a luxury pick and may be priced above $100, these headphones do go on sale around the holiday season and can be purchased then for under $100.
With tons of great products on the market, these Panasonic RB-M700B Deep Bass Wireless Bluetooth Immersive Headphones, Noise Canceling come at the top of the list for performance at an affordable price.
Design
These Panasonic noise-cancelling headphones have a lightweight over-ear design. You can fold in the ear pieces for easier storage.
One of the best features of these headphones is their comfort. The ear pads have thick cushioning, as well as Side Pressure Dispersion Technology.
Performance
As implied by their name, the Panasonic RB-M700B headphones offer great bass sound.
It just takes a four-hour charge to give you 20 hours of playback from these headphones. If you just have time to charge for 15 minutes, you will still get 90 minutes of listening.
The Panasonic RB-M700B headphones are waterproof, so they're perfect for when you're exercising or relaxing on the beach.
3-Level Bass Reactor
Quick charging
Exceptional comfort
Waterproof
Bluetooth 5.0 connectivity
Shorter playback than more expensive models
---
And while most items on this list so far have been over-ear headphones, we have included these wireless Bluetooth in-ear headphones on the list. Perfect for those looking for active noise cancellation on the go.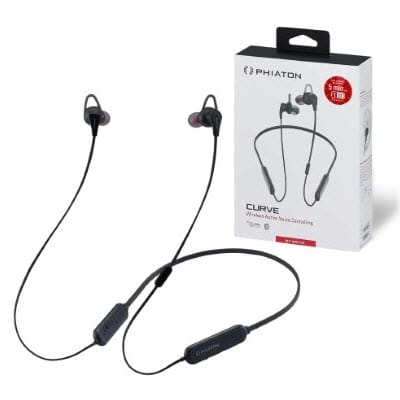 Design
A different take on the standard wireless earbuds, these earphones by Phiaton sport a subtle band that is as functional as it is discreet.
They have functional buttons on the side to have more control over your listening experience. These headphones are also sweat and water resistant for your most vigorous activities.
Performance
The key takeaway with these headphones is that there aren't many noise cancelling in-ear headphones that come at such an affordable price. Needless to say, they aren't perfect but they definitely get the job done.
With just the right amount of noise cancellation, and vibrations alerting you of any important notifications from your device, this is a great option for those always on the go.
Affordable
Sweat and water resistance
Easy accessibility
Vibrates for notifications
Bluetooth operational
Fast charging
Shorter continuous playtime of around 5 hours
---
Buying the Best Noise Cancelling Headphones Under $100
Overall, noise cancelling technology is one of the newer and greater recent innovations to date. An affordable price does not always have to compromise performance.
There are tons of affordable options on the market, and it's all about knowing what you are looking for and where to look.
Want to learn more about noise cancelling headphones? Read my guide to how noise cancelling headphones work here.