If you have Sony Bluetooth headphones, you've probably run into problems pairing your headphones. The last thing you want when trying to listen to music is a hassle getting your music to play. It's incredibly frustrating and a huge inconvenience, especially when listening to music on the go.
In this article, we'll go over everything you need to know to use your Sony Bluetooth headphones successfully, as well as tips for pairing your headphones without trouble.
Common Issue Sony Headphone Users Run Into
People who use Sony Bluetooth headphones or earbuds tend to run into some common issues, like not pairing properly with their device. This can be a frustrating problem, but luckily there are several steps you can follow that are very likely to solve it.
The first things you want to check are the most basic. When pairing isn't working properly, first check the following:
Ensure that both your listening device and headphones have sufficient power or charge. If they don't, that is probably the cause of the issue.
Make sure your device and headphones are within three feet (or one meter) of each other. Bluetooth only reaches so far, especially during pair. This is important for your device to find your headphones.
How to Pair Your Sony Bluetooth Headphones
Try following the steps below to successfully pair your Sony Bluetooth headphones with your sound source.
Put Your Headphones in Pairing Mode
Make sure that the unit is turned off. If you find that it turns on as soon as you connect it to a power source, press down on the power button and continue holding it down until it turns off. Next, turn on the Bluetooth device before doing this and place the headphones within three feet (or one meter) of the sound source.
Press the ID SET button (for the speaker) and hold it down. Alternatively, you could press the Power button (for the headphones) for a minimum of seven seconds while the headphones are off.
When you see fast blinking on the indicator, let go of the button. This is when your Bluetooth listening device will go into Pairing mode.
When you see the blue indicator (communication status) and the red or green indicator (power) flashing together, let go of the ID set button (the one for the speaker). Once you've done this, the unit will go into Pairing mode.
If you find that the Pairing mode gets cancelled, you will need to start over with these steps from the beginning.
If this is the first time you've paired your Sony headphones, press the power button and hold it down for about two seconds while the device is off.
The exact button that you will need to press and hold down in order to get to Pairing mode will depend on the exact listening device you are using. This is one reason why it is very important to thoroughly read the manual that came with your headphones.
Select Your Device
Use the procedures for your audio device for pairing your headphones. When you do this, your device will show a list of detected devices it can pair with. If you have a headphone device that does not have a display, you will not see this. The kind of device you have will determine whether the Bluetooth connecting process will begin immediately.
Choose your listening device's model number in the display list. If your model isn't showing up on the list, repeat the process so the device scans for devices again.
If you find that the display of your Bluetooth audio device is showing a passcode input prompt, put in the number 0000 (a sequence of four zeros). The passcode may also be referred to as the password, PIN number, PIN code, and Passkey. Though it's possible this won't be required.
There are some Bluetooth devices that have an automatic connection. Check out the instructions that came with the Bluetooth device.
When the pairing is complete, the communication status (blue) indicator and the power (green) indicator, will light up consistently. This should mean that the unit will remember the pairing information permanently.
Make sure that you don't accidentally turn off the Bluetooth headphones or the sound source before the Bluetooth is connected. If this happens, there won't be proper memorization of the pairing information.
If you try all these tips and your device still isn't paired, try troubleshooting your device.
Sony Headphones and NFC (Near Field Communication)
Some Sony headphones have Near Field Communication (NFC) capability. If your personal listening device has this, using your device wirelessly might be more convenient.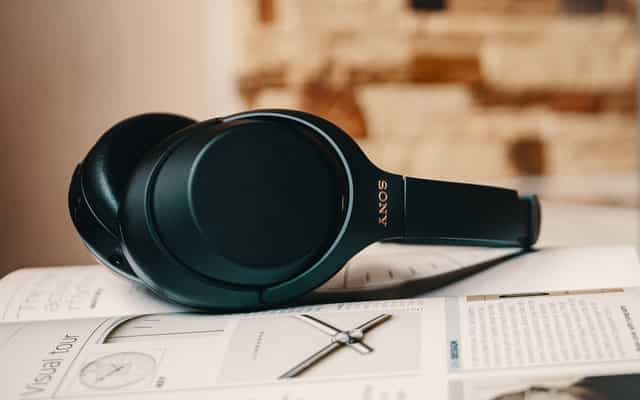 Below are steps to set up your headphones using Near Field Communication (NFC). If you're not sure if your headphones have NFC capability, check your manual.
Enable your smartphone's NFC function. You should be able to find this capability in your phone's Settings.
Find the mark that shows the image of an "N" on the headphones. Hold this down until your phone vibrates or beeps. This signals when your Sony personal listening device pairs or connects with the sound source device.
You will see a message come up on your screen asking if you want to pair the Bluetooth device to your sound source device. Click yes to connect.
Once you have gone through this process, you should not have to do it again unless one of the following things occur:
If you do a factory settings reset.
If you have reached the maximum for the number of Bluetooth devices you can pair with the sound source device.
There have been repairs done on your smartphone that deleted pairing settings.
Enjoy Your Sony Headphones!
As we've seen here, connecting your Sony headphones to your phone is not as tricky as you might have thought. Follow the steps that we have set out here to get your Sony headphones connected and set up for your listening enjoyment.