If you want to set up your TV so that several people in the room can listen through their wireless headphones, there are certain things that you need to keep in mind. While the specifics will be different for every type of headphone and TV, there are certain tips that should help you to set up multiple wireless headphones for TV use.
In this article, I'll go over how to set up your TV to work with multiple wireless headphones, and I'll suggest some Bluetooth headphone models which work really well for this application (because not all wireless headphones perform well in tandem when watching TV).
Let's start there.
Popular Types of Wireless Headphones
Wireless headphones are a great choice for watching TV because you won't have to worry about wires stretching all the way from your seat to the other side of the room. Let's take a look at some of the most popular wireless headphones on the market.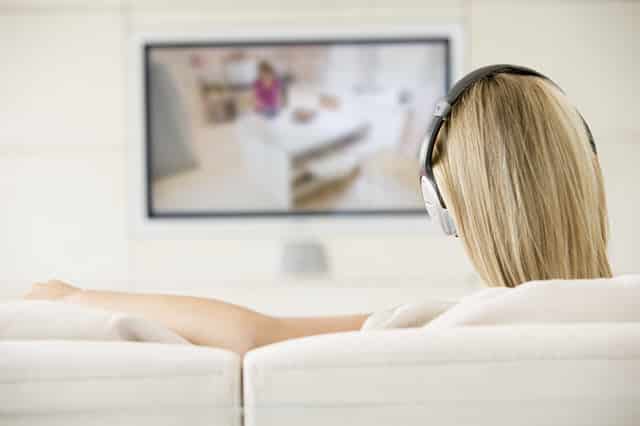 Remember that as with any other kind of Bluetooth headphone, you will either need a TV that has built-in Bluetooth or a Bluetooth adapter.
Phiaton BT 460
The BT 460 headphones from Phiaton are actually made especially for two people to listen to the same thing as once, making them ideal for when you want to watch TV with others.
Phiaton BT 460 headphones aren't the only Share Me headphones on the market. You can find this kind of technology from other brands, as well.
A pair of Share Me headphones can be quickly and easily connected to one another wirelessly and use the same sound source. While the Phiaton BT 46- headphones come with a cord, they have Bluetooth capability to use them wirelessly.
Making them even more convenient is the fact that they have an excellent battery life, with up to 20 hours. They have excellent sound quality and an attractive design.
Sennheiser RS 185
The Sennheiser RS 185 model is one of the best headphones you can use for watching TV. They some of the best sound quality available on the market. Their over-ear design helps block out a lot of background noise. That makes it easier to enjoy watching and listening to your favorite TV show or movies at home.
These headphones are a bit different from many others. They don't use a Bluetooth transmitter and instead use their own Sennheister transmitter. It's included and works from a distance of up to 328 feet. You'll be able to sit anywhere you want in the room when watching TV.
The adaptor is incredibly simple, too. Plug it into the TV via a 3.5 mm headphone jack, an optical digital audio output, or an RCA connection. When you want to set your TV up for multiple people to listen through their headphones, you can do this if the other listeners are also using compatible Sennheiser headphones.
The Sennheiser RS 185 battery lasts up to approximately 18 hours. You won't have to worry about charging them all the time. Not only that but when the battery does run out, the headphones are really easy to charge. All you have to do is charge them wirelessly by putting them on top of the transmitter.
Sennheiser is a headphone maker with a long history. It's been around since 1945. This headphone model provides outstanding sound with both music and speech, making it ideal for TV and movie watching. Excellent clarity is a hallmark of Sennheiser headphones.
Make Sure Your TV is Bluetooth Enabled or Use an Adapter
Of course, you will need a TV that is able to use Bluetooth in order to use Bluetooth headphones.
If you don't have a Bluetooth-enabled TV, you can use an adapter.
If you have a TV that has Bluetooth support, follow the steps below for connecting your Bluetooth headphones.
Connecting a Bluetooth Compatible TV
Make sure the headphones are in pairing mode. A blue blinking light usually shows when headphones are in pairing mode.
Make sure that your TV's Bluetooth function is enabled. If you don't know how to do this, check your TV's manual since every model of TV has its own procedure for accessing Bluetooth mode.
Your TV will scan for Bluetooth devices in the area then show a list of detected devices. Choose which headphones you want to connect to the TV. After you have successfully done this, the headphones should appear in the list of "Paired Devices."
Connecting a Bluetooth Transmitter to Your TV
If you have a TV without Bluetooth support, you will need either a Bluetooth audio transmitter, dedicated wireless headphones, media streamers, or a gaming console.
A Bluetooth audio transmitter plugs into the TV's audio output. It allows audio to be transmitted by Bluetooth to wireless headphones. Bluetooth audio transmitters are much easier to use than you might think. Two popular transmitters are:
You have to know what kind of audio output your TV uses before you can use one of these transmitters. Be aware that certain older models of television lack a 3.5 mm headphone jack, as well as the optical TOKLINK output. Look into the features available on your TV in this area before you purchase a transmitter.
What if I Want More than Two People to be Able to Listen to TV with Bluetooth Headphones?
It can be a bit tricky to have more than two people use Bluetooth headphones to listen to a TV at the same time.
While adapters usually only accommodate up to two devices, it is possible to use a splitter in order to go up to four personal listening devices. Be aware, however, that this may lead to reduced sound quality.